Walleye Fishing in Canada
Some of the best walleye fishing in Canada happens right here, at Halley's Camps on the English River. Ranging in size from 13 to 33 inches, walleye are typically gold-colored, with a dark green or blue tinted back and white belly. Jigging with live bait is the tried-and-true way to catch walleye, but they're also known to bite a variety of artificial baits. If you're looking for the biggest and best walleye fishing in Canada, book your fishing trip at Halley's Camps!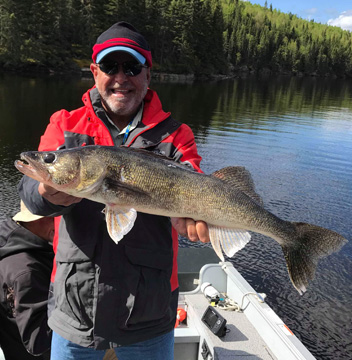 Finding Walleye
Walleye inhabit waters that have current, sheltered bays, rock points and shoals. You can successfully fish for walleye in water that's anywhere from 8′ to 30′ deep, but however deep the water, you'll usually find the walleye near the bottom. If you're walleye fishing in Canada in spring or fall, head to shallower water. In the summer, look deeper—where they walleye have settled in for the warm months.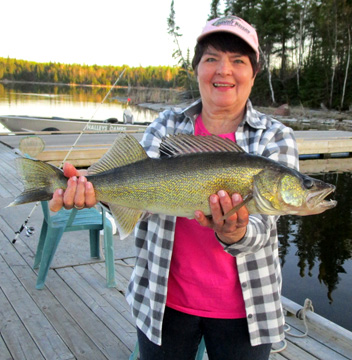 Catching Walleye
The Halley's favorite bait for catching the whopper walleyes is live bait (minnows work best) and a jig. Jigs range from 1/4 – 3/8 oz, in an array of colors like orange, pink, plain lead, and chartreuse. Other successful walleye lures include deep ping crank baits (medium size in hot steel, orange, and perch colors), bright colored spoons, and power bait (medium size in orange, gold, and perch colors) with jigs, drop-shots, or spinners.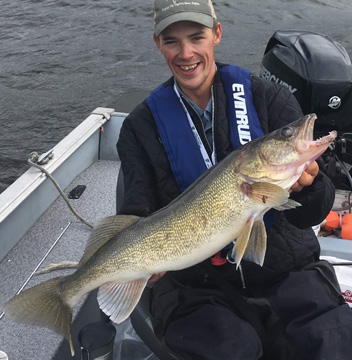 Fishing Tips
If you're jigging for walleye, be sure you can feel the bottom of the river when you set your line. Choose lighter tackle with a clear, 6-10lb test monofilament or florocarbon line for best results. Stick with live bait (or soft artificial bait) in the summer months, leaving artificial hard baits for spring and fall.
THE WALLEYE ARE WAITING...
Your Fishing Vacation Starts Now
Ready to experience some of the best walleye fishing in Canada? Whether you desire all the comfort and luxury of a lodge or the escape and adventure of an outpost experience, Halley's Camps offers something unique for everyone.