Owners, Chris and Amber Halley, personally invite you to have the Halley's hospitality experience
---
1-800-465-3325
---
OFFICE HOURS
Summer: 8:00 am – 5:00 pm
Winter: 9:00 am – 4:30 pm
Ready to book an amazing fishing getaway at Ontario's top walleye, pike & bass fishing lodge? Or an exceptional moose or bear hunting trip? Need more information?
Call now!
Toll Free: 1-800-465-3325
Local: (807) 543-3325
---
Halley's Camps
P.O. Box 608
Kenora, ON P9N3X6
---
Our Name is Your Guarantee
The Halley family's dedication to the ultimate fishing experience started with Louis and Yvonne in 1946 with two guest cabins on Black Sturgeon Lake, just outside of Kenora. Over seven decades this goal has grown into a commitment for great customer service and conservation of our natural resources.
Halley's Camps has evolved over the last 75 years, from the original barges at Kettle Falls, a summer tent camp at One Man Lake, and an English River access point at Caribou Falls while the power dam was built. Our guests have come to know us as the family behind the quintessential Canadian fishing lodge and guest cabins that are the present day Kettle Falls Lodge, the year-round luxury of One Man Lodge, the housekeeping cabins and new lodge at Caribou Falls Landing, and the dozen remote, fly-in outpost cabins scattered throughout the Canadian wilderness.
Chris and Amber (and their family) continue with the traditions that have been instilled in them and continue owning and operating Caribou Falls Landing, Kettle Falls Lodge, One Man Lake Lodge, Dufault's Island Outpost, Trapline Lake Outpost, Moosehorn Lake Outpost and Rex Lake Outpost. We are keeping with the roots and basis of Halley's Camps where we state: Your grandfathers trusted our family with their fishing vacations, you should too! We invite you to come and experience some amazing fishing, fantastic accommodations, friendly personalities and some good ol' personal touches!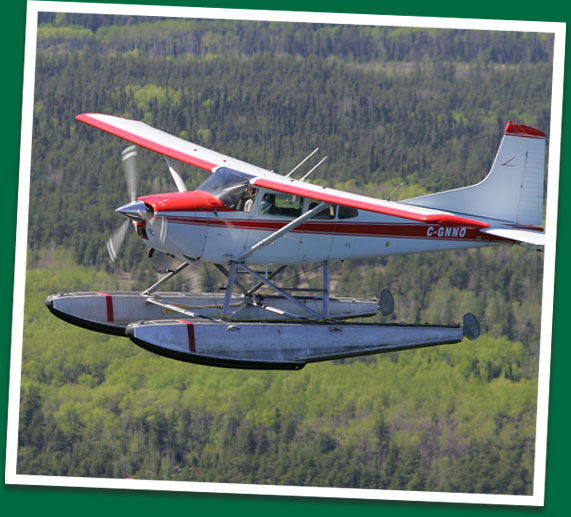 A remarkable family business success story… Halley's accommodations are second to none, very modern, and well-maintained, and employees that are always helpful. The fishing is excellent. My sons, daughters and grandchildren all treasure the Halley's experience and can't wait to go back.