We are located on the western border of Ontario, 200 miles north of the Canada / U.S. border.
Our air charter service, River Air, is located in Minaki, just 35 miles north of Kenora on highway 596 at the junction of highway 525. If traveling to any of the camps by air from Minaki, this is where your float plane flights into the camps will depart from. Our flights into the lodges depart 3pm-4pm.
Flying Internationally
After your flight arrives at one of our nearby airports (Winnipeg, Fort Frances or Kenora) you have several choices as to transportation into your lodge or cabin.
In addition to the options below, you can also have Halley's Camps arrange ground transportation for you, you can rent a car (see driving directions), or you can charter a taxi and meet one of our float planes at the nearest base.
Flight arrangements into Winnipeg International Airport can be made through Prelude Travel at 1-800-561-8907. Our guests receive discounted rates with this travel agency, just mention you are going to Halley's Camps.
Driving
Whether you're driving all the way here, or renting a car at one of our nearby airports, your destination is the River Air base in Minaki, Ontario. From Highway 17 turn north onto Highway 596. You have about a 40 minute drive to the junction, where you'll turn left onto Highway 525. The Halley's Camp River Air base is on your immediate right.
Fly & Shuttle
Halley's Camps Shuttle that will pick guests up at the Winnipeg International Airport and deliver you and your party to the River Air base in Minaki. From there you'll board one of our float planes and fly in to your selected lodge or cabin.
Fly Direct from Airport
If you're flying into Winnipeg, Fort Frances, or Kenora airports Halley's can meet you there, where you'll board our amphibious seaplane and be flown directly to your lodge or cabin. This eliminates the need to travel to our River Air base in Minaki. To fly direct your arriving flight must land before 1:00PM.
Boat-In
If you'd like to boat into Kettle Falls Lodge or One Man Lake Lodge you can drive to our lodge at Caribou Falls Landing (see driving instructions below) where you'll meet your boat and head to your lodge destination.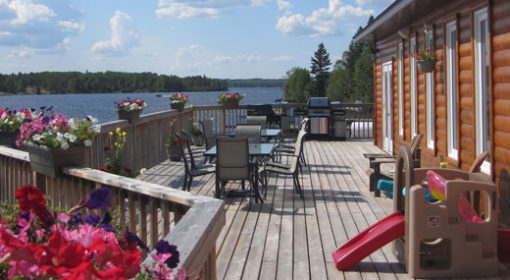 Driving to Caribou Falls Landing
To drive into Caribou Falls Landing you'll follow Highways 596 north of Kenora, then turn north onto Hwy 525. You'll reach the Whitedog Power Dam after about 20-25 minutes. It is safe to cross the dam! (Note that the 'Danger Keep Out' sign refer to the grassy area beside the road).
Once you cross the dam you'll travel for another 15-20 minutes before you see a Halley's Camps sign. Turn right at that intersection. Follow the road for another 10-15 minutes, take one more right, and you've arrived at  Caribou Falls Landing!
Just wanted to tell you how much I enjoyed our stay at Salvesen Outpost! This was my first time out there and I had a wonderful time.