Smallmouth Bass Fishing in Canada
For a wild and fun fishing experience come chase down the smallmouth bass at Halley's Camps on the English River. Ranging in size from 10 to 23 inches, smallmouth bass are known for the fight to get them into the boat. Smallmouth bass fishing in Canada is one of the most exciting fishing adventures you can take, and Halley's Camps has everything you need to get on the water. Book your trip today!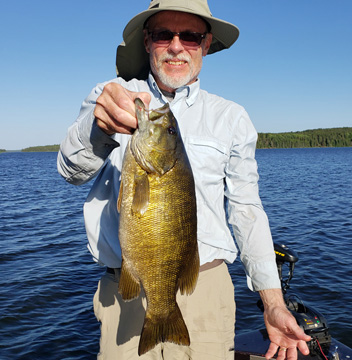 Finding Bass
Smallmouth bass are a fun, action packed fish ranging in size from 10 to 23 inches. They are caught in shallow waters during the fishing season. In the spring they'll attack anything—including your bait—that comes near their shallow spawning beds. Later in the season you'll find them in about 15-20 feet of water, near reefs or rocky shoals. Our stretch of the English River is full of perfect for smallmouth bass fishing.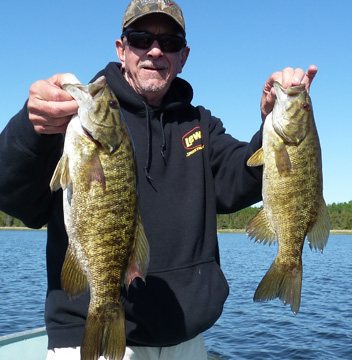 Catching Bass
To catch smallmouth bass we recommend Mepps size 2 or 3 in silver, chartreuse, or black; shallow crank baits, small or medium, in orange, blue and white; or top water baits like poppers in green, black, and silver. For the days when the bass aren't shallow, deeper running crank baits, plastics (twister tails and tube jigs), and live bait work well.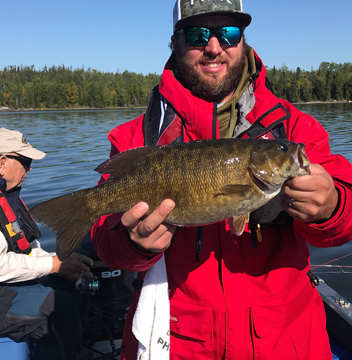 Fishing Tips
Seasonality is the key when fishing for smallmouth bass in Canada. Depending on the time of year bass will seek out leeches, crayfish or minnows—keep your tackle box stocked with artificial baits that mimic those species, or choose live baits. And you can't go wrong with a pair of polarized sunglasses for watching those shallow waters, no matter what time of year.
READY FOR NON-STOP BASS FISHING?
Book Your Fishing Trip Now!
Ready to experience some of the best smallmouth bass fishing in Canada? Whether you desire all the comfort and luxury of a lodge or the escape and adventure of an outpost experience, Halley's Camps offers something unique for everyone.