Northern Pike Fishing in Canada
For the biggest and best northern pike fishing in Canada, come fish at Halley's Camps on the English River. Ranging in size from 18 to 50 inches, northern pike are one of the top predators in the river and are known for their aggressiveness. When the big one hits, you better hope you have a good leader on! When you want the most exciting northern pike fishing in Canada, book your fishing trip at Halley's Camps!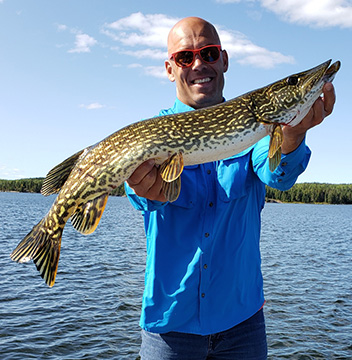 Finding Pike
Northern pike are known for their aggressiveness, and can be caught throughout the summer. They can be found around reefs and weedy bays, where underwater vegetation creates a perfect hunting habitat. Though often found in shallow water, pike will often be caught while jigging for walleye in deeper depths. As the warm summer months come to a close, move to deeper water to find for the best northern pike fishing.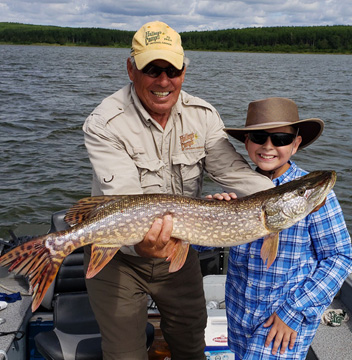 Catching Pike
Our favorite baits for northern pikes are spoons (size #2 in shiny, black and white, and five of diamonds colors), bucktails (medium to large, in black and orange colors), shad raps (in chartreuse, white and perch colors), and trolling lures (in bright, silver, and copper colors). And while those are our favorites, many anglers will tell you—you can catch 'jackfish' with just about anything!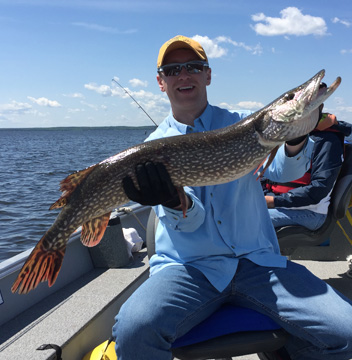 Fishing Tips
If you're fishing for the big northern pikes, buy the best quality leaders you can. These fish will fight you hard, and you want to be ready with the hardiest tackle you can get. Bring a wide variety of bait and lures with you, and remember that biggest isn't always best when it comes to pike lures. Try shiny lures on sunny days, and colorful ones on cloudy days.
THE NORTHERN PIKE ARE BITING...
Start Your Fishing Trip Today!
Ready to experience some of the best northern pike fishing in Canada? Whether you desire all the comfort and luxury of a lodge or the escape and adventure of an outpost experience, Halley's Camps offers something unique for everyone.