What's Happening at Halley's
Sign up for monthly updates about what's happening and what's on the line at Halley's
Happy New Year!! To bring in the New Year why not go fishing? Chris caught this lake trout when he was out working on camps…hard work, eh? No, Chris and Jonny went cutting firewood for the remote (outpost) camps in preparation for the summer. After being out on trails and snowmobiles, it's nice to stop and make a fire to warm up your lunch. Lots of times with the frigid temperatures sandwiches get so solid by lunchtime you could break a tooth. The fire is nice to warm up next to and heat/thaw your lunch!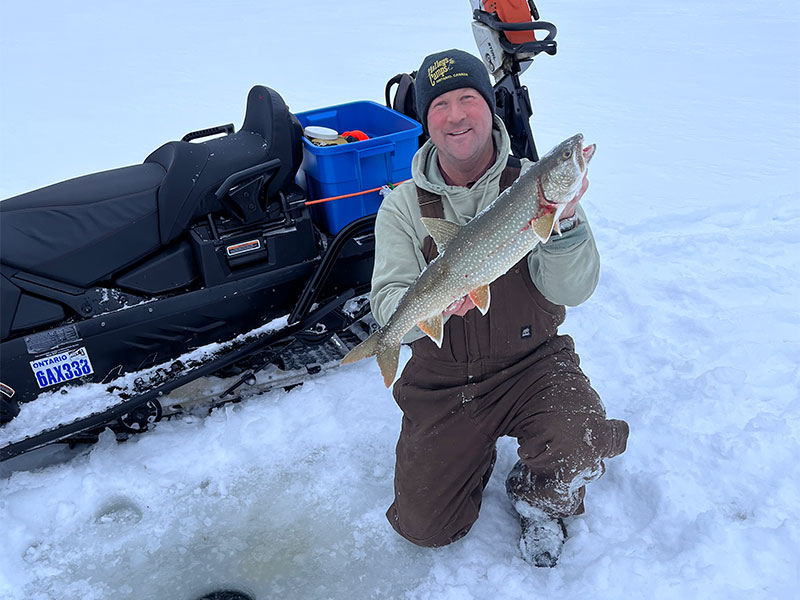 We were able to do some of our sport shows in January…we have been doing the Kansas City sport show for decades and the show was cancelled due to loss of venue and St Paul was cancelled as well. We went to Milwaukee, WI and it was great to be back in the saddle again after not doing any sport shows since prior to Covid.


We want to say Merry Christmas and Happy New Year to all! We hope all fishermen receive something fishy this Christmas whether its fishing tackle, fishing gear, fishing rods, fishing pictures or something that reminds fishermen of their trips to Halley's Camps!
On December Chris and Gene were able to snowmobile out to One Man across the English River. Testing the ice is a must dealing with the current of the river, especially around the main channel points. One Man is safe and sound, solar is on with generator backup and everything is running as it should!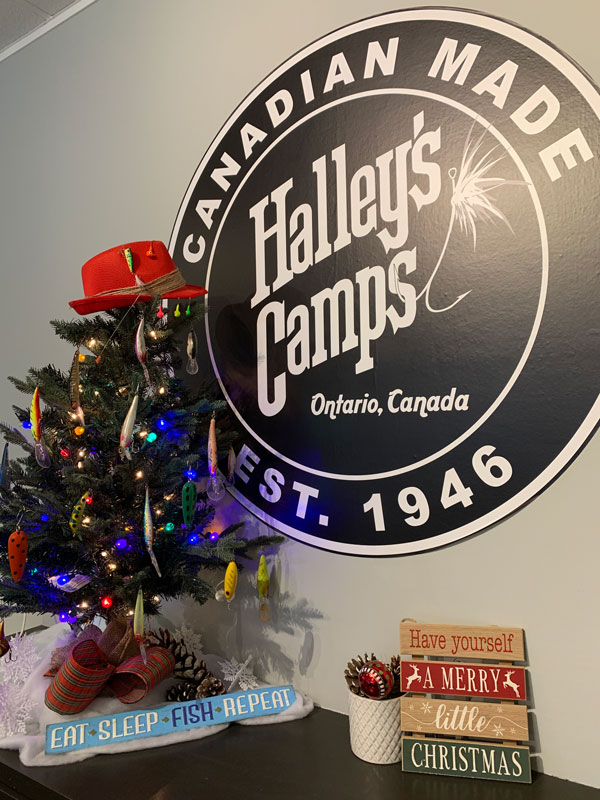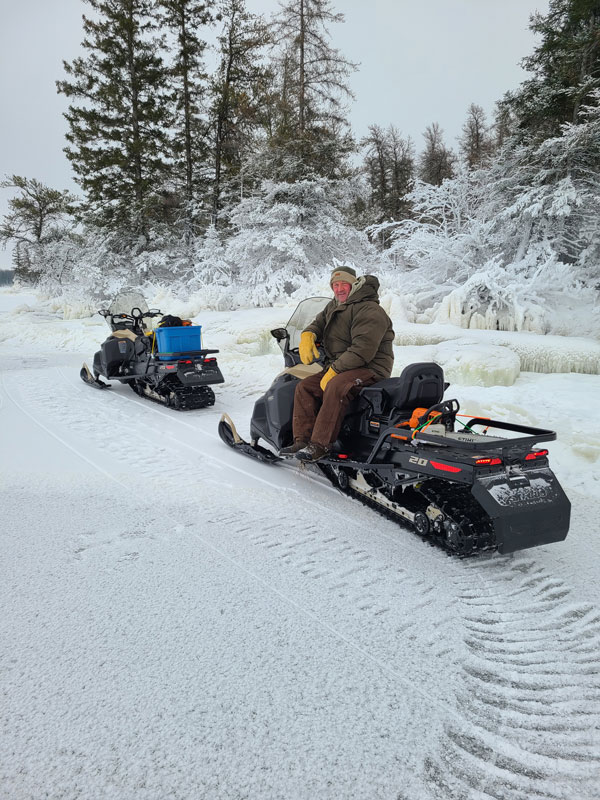 The CANADIAN border is open to unvaccinated travelers! This is huge news!! We have contacted lots of people to tell them that the border is open! For 2023 dates, give us a call and we'll get you fishing!!
Here MOOSE, Moose, MOOSE
The fall is when we do our moose hunts and this year in October, we had 2 groups in at our outposts. We had a self-guided, Halley experienced group be very successful and enjoyed romping through the bush. They were an archery group that started their hunt in September and finished in October.
Our next hunt was our rifle hunt at one of our fly in remote cabins. This family of hunters were excited to be out hunting and to view the north country. They were also successful at seeing moose and had some great stories!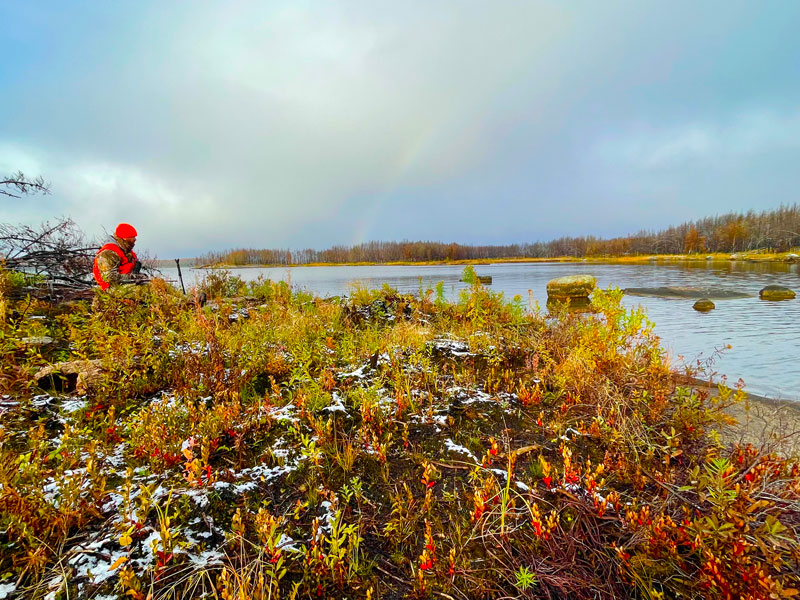 Project from start to finish
We try cutting a lot of our own wood on our WoodMizer mill. Check out the video from this summer when Chris was running the mill. This wood was being cut for shore lunch shelters as when the wildfire came through last year much of them were burned. Our big flat nose boat was used to haul the wood to the new locations and kept the progress going. Chris rounded up a crew of workers to build the new shacks and they look awesome!!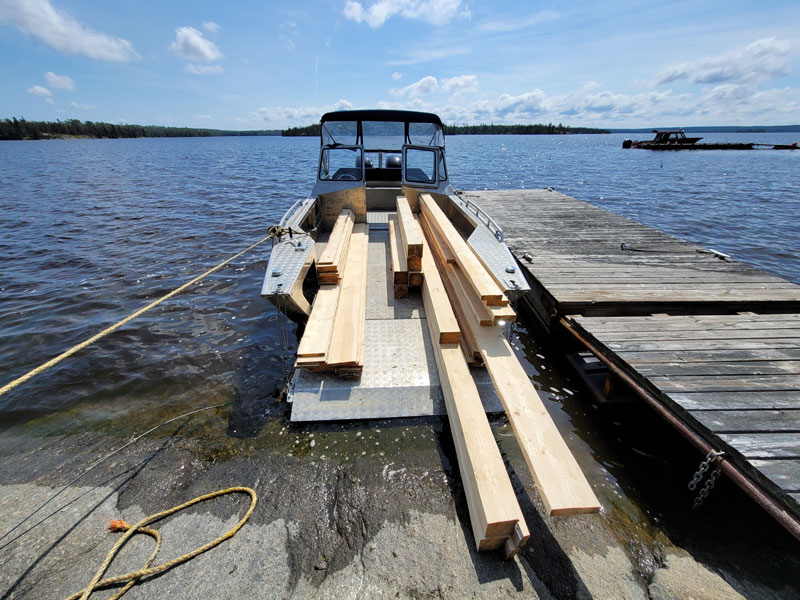 New 50hp MOTORS for 2023
We always try our best to give our fishermen great boating equipment and we are getting new motors on our fishing boats for the 2023 season. We had 6 guys working as a team pulling boats from the water, emptying all the equipment out, pulling them up next to the backhoe and they would use the machine to lift the motors off and then set them on the transport trailer. 26 motors are on their way for spring time!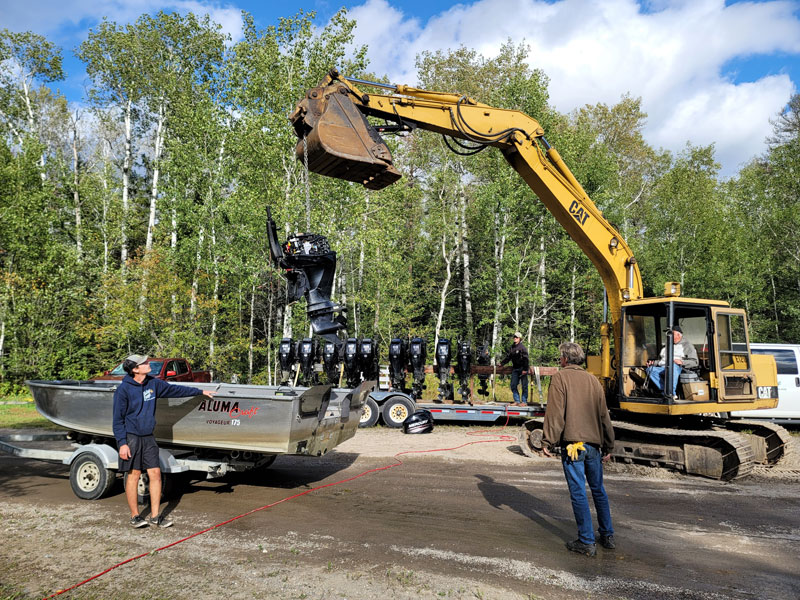 VIEW the trophy registries:
The trophy fish list for Halley's Camps has been compiled! Halley's guests registered a total of 1,170! That is an incredible number!! Click here to view the Halley's Camps Trophy Water List for 2022. The totals: 748 smallmouth bass, 175 walleyes, 242 northern pike and 5 lake trout! High five to all the fishermen this summer!!
Thank you to our staff for the summer work!
A huge shout out to all of our staff -guides, servers, housekeepers, drivers, boat transporters, managers, cooks, retail, reservations, pilots, administration and more!! One of our staff sent us some pictures in the life of working at Halley's Camps and Damien worked with us from the early days in May until October-check out Damien's pictures!!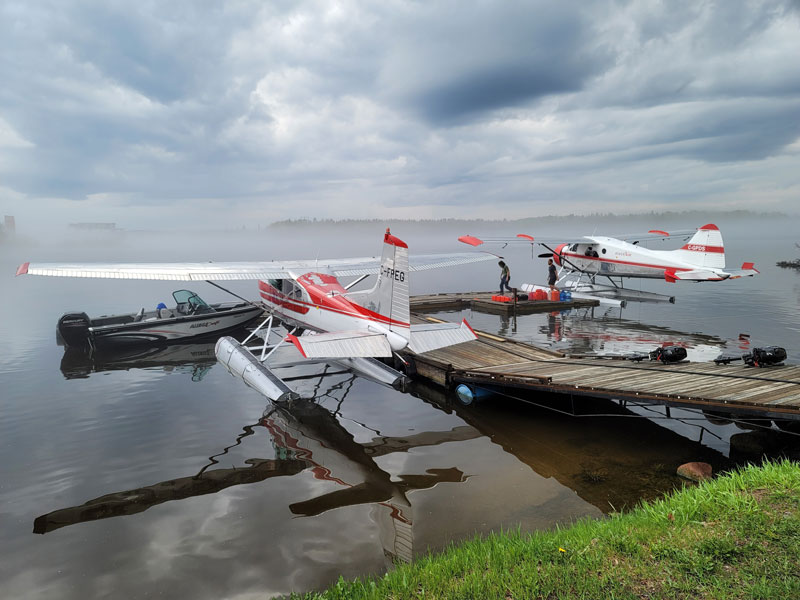 In memory
Fisherman and dear friend, Hutch Schilling, we hope you are fishing in clear skies above.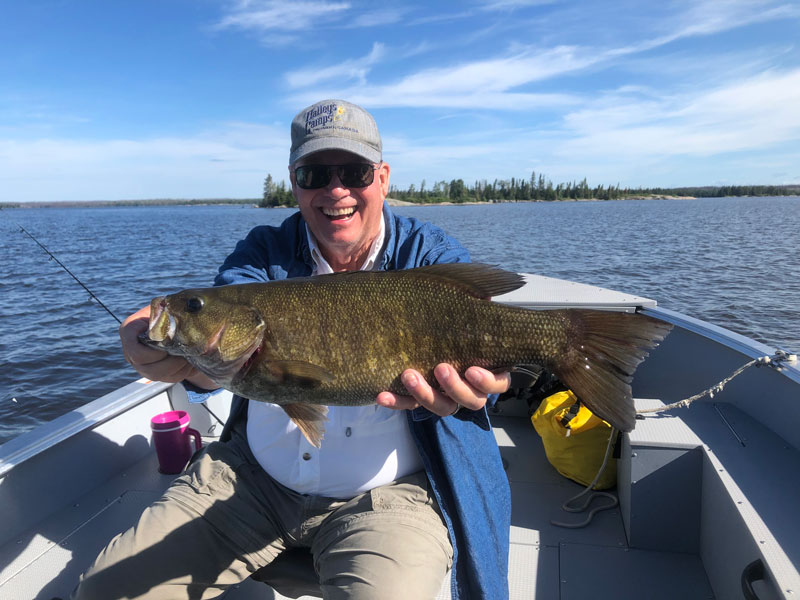 Hutch fished with us in June and July at One Man.
The CANADIAN border is open to unvaccinated travelers!
Hooking into 2023
All of our guests/fishermen/customers should have received their letters regarding the 2023 season. We have freshly updated dates on our website and if you don't see dates that you are looking for, please contact us and we will see if we can wiggle you in! Let's go fishing!
This fall the leaves captured so many bright colors. The month of September had perfect temperature weather with some days being in the high sixties to seventy degrees Fahrenheit. All in all, it was great fishing again this month and the boat rides were gorgeous!
Caribou
Reefs, shorelines, and any underwater structure were producing smallmouth bass, pike, and lots of walleye! Word on the lake was much of the bass were being caught off certain crank baits and plastics. Brian and his brothers made it up for fishing in September again this year! Out of Brian's Family, the largest fish was a 44" pike caught by Ezra-look at the picture!! We had Tom and his family/crew up for some September fishing! We also had a couple of bear hunters from the states in September and pictured here is Jim with his bear-nice one!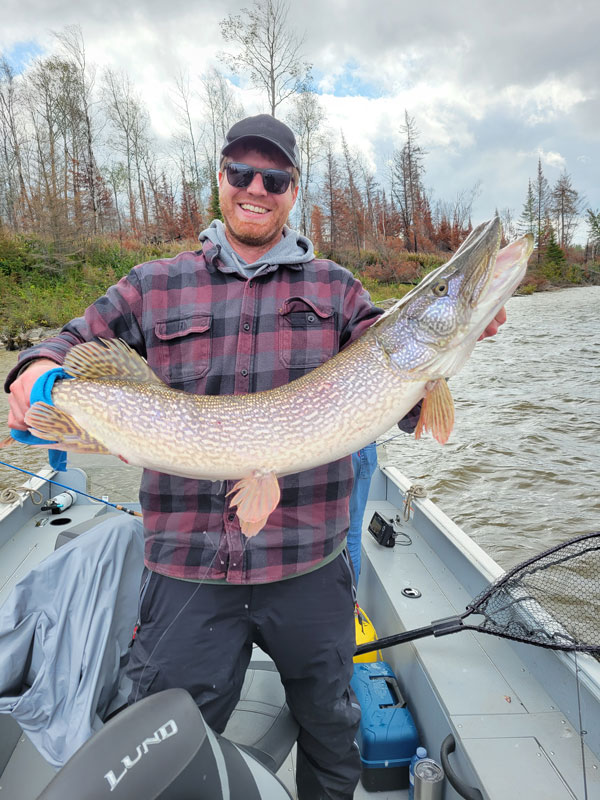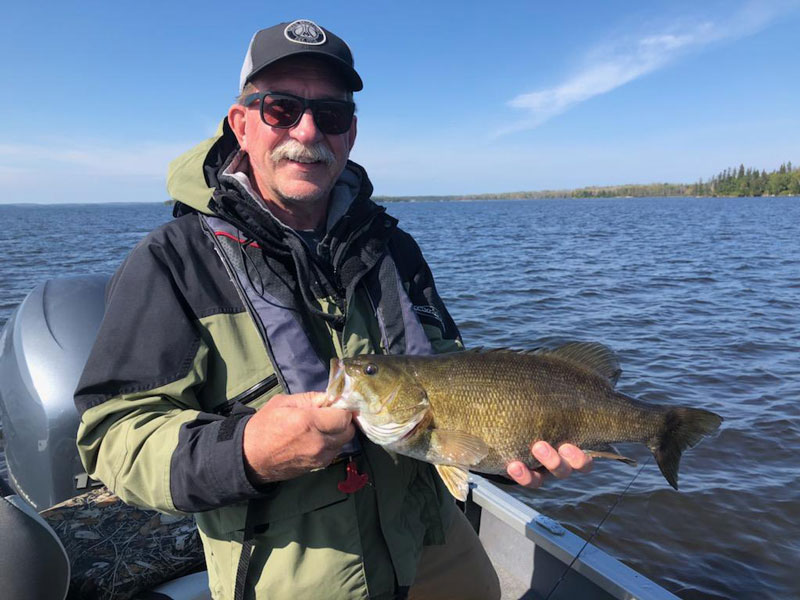 One Man
The first half of September at One Man was a busy one! We had a group that normally fishes the waters at Kettle come and experience the fishing at One Man-Mark caught 5 trophy smallmouth bass-that's pretty awesome!! We had the Esser family come fishing and they brought their next generation of Halley's fishermen and they had such a blast-boat loads of fun-fish, shore lunches, and family time! Mike caught a large smallmouth bass pictured here.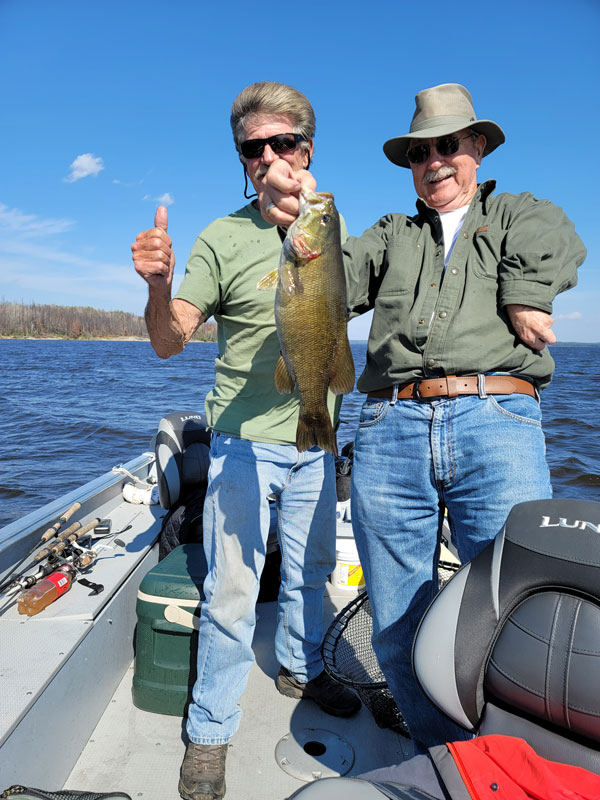 Outpost hunts
We had some hunters staying with us at our outposts and hunt camps for fall moose hunting. We had some MOOSE action this month!! Scott and Tim were stoked when they got their first moose! We will keep y'all posted on October hunts.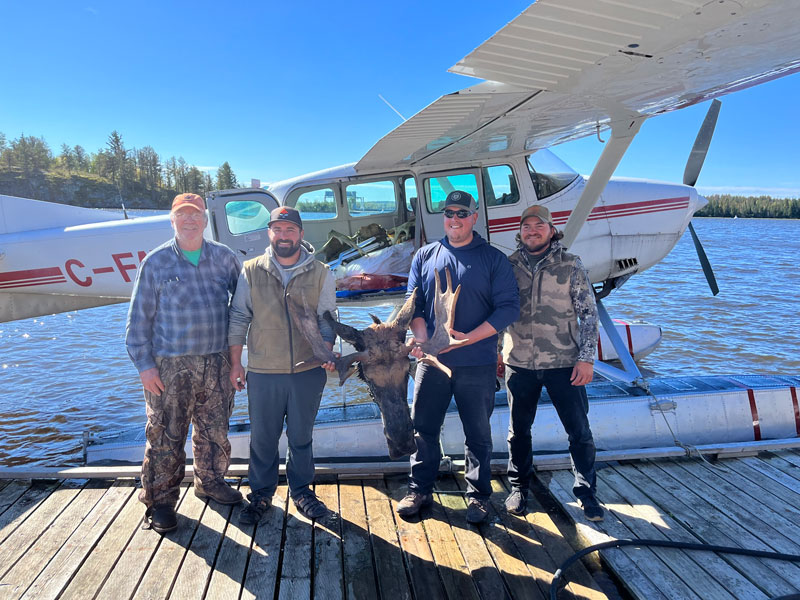 September Trout
Fishing trout in the fall is different than fishing in the summer because when the water temperature cools off, the trout go more towards the shallows. The last day of trout season is September 30 every year and this year Chris and Amber treated staff to a fly-in trout lake before the end of the month. Chris flew the crew into Secret Lake # 27.5 and everyone hooked into the trout!! Kenna, in our reservations department, even got out of the office for the day and proved she could catch fish!! Our guides from Kettle Falls, Brian and David, joined them as well as Damien from Caribou. It was a super fun day!!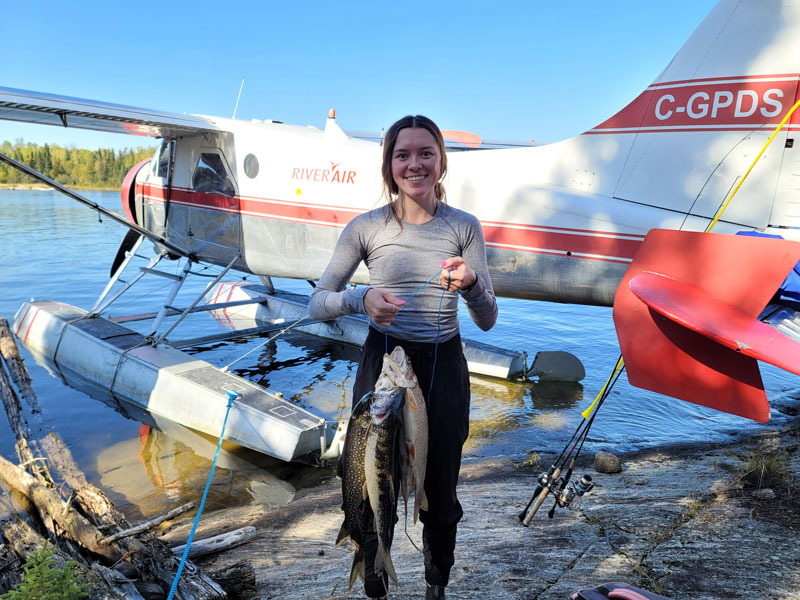 Caribou Falls Landing
Caribou Falls Landing guests reported that this was the best fishing that they have ever had!! The fishing was on fire and the walleyes were biting anything that was put in front of them. We had the pleasure of seeing Roy up at Caribou and Roy has been fishing with Halley's Camps since 1997. Here are 2 photos of Roy one from 25+ years ago and one from this past summer in 2022 with his 30" walleye!!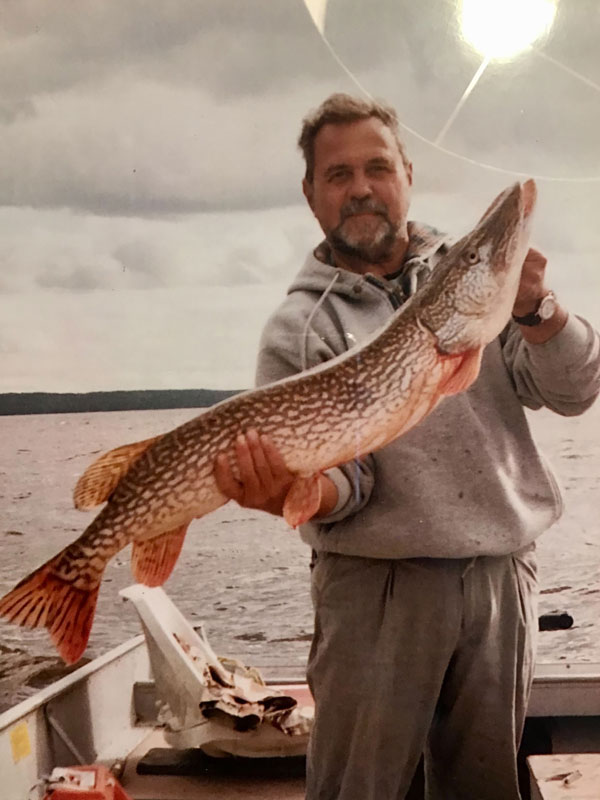 Here also are a couple of photos of Don and Rich-a couple of fishing buddies!!! Another fishing crew caught the heck out of the walleyes the 3rd week of June-Dennis and the boys said this was the best fishing that they have ever had at Halley's Camps!!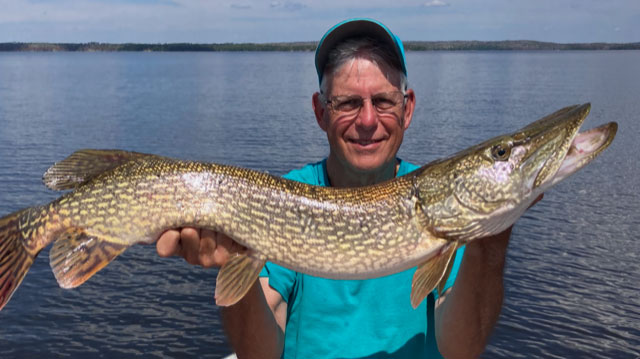 The Bucholz party had some giggles as in their entire fishing group, fisherman Garry, had caught the smallest fish as well as the largest fish-they cannot all be trophies! LOL!!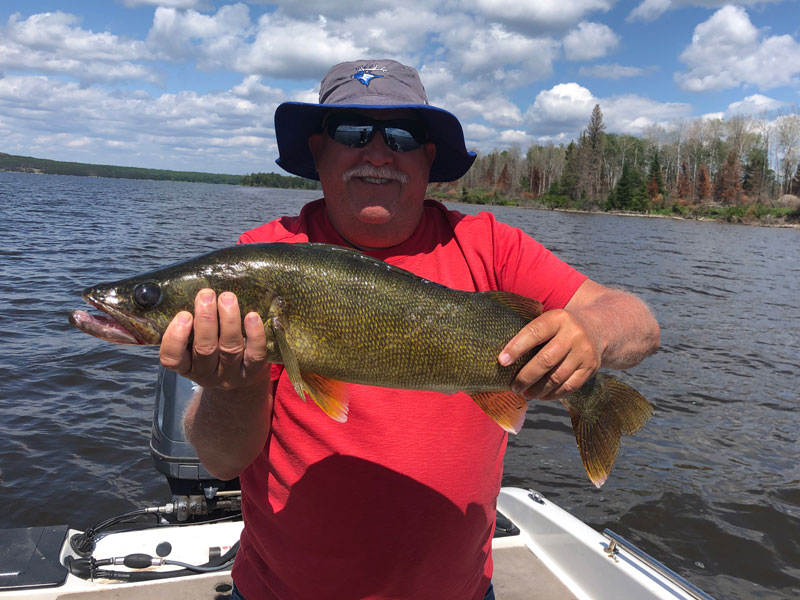 Also, pictured is Louis Halley and Jim, Jim has now been guided by 4 generations of Halley's starting with Louis's great grandpa Louie, his grandpa Gene, his dad Chris and now Louis-how cool is that?!?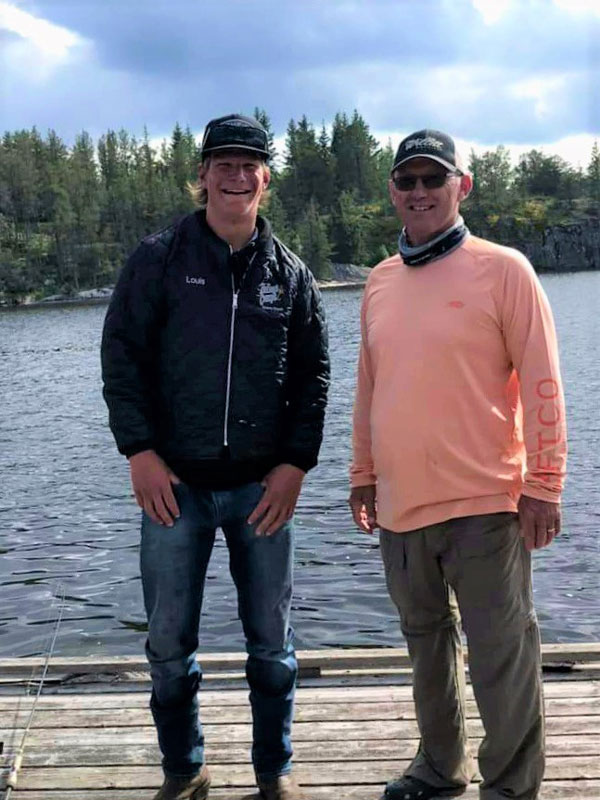 One Man Lake Lodge
One Man Lake Lodge had a busy start to the month with many fishermen. It was great seeing groups of couples, kids, and families. One of the favorite stories of the month was a student was able to plan his own graduation present and he chose a trip to One Man! Luke, his dad and friend came and fished at One Man-now that is a trip Luke will remember for always!! We were also happy to finally meet the significant others of some long-time fishing/hunting guests Dave and Mike!! Another family visiting was Chris and Alyssa with their kids and her parents and it was awesome to see the family coming together-fishing and having fun. We really enjoyed all of our guests this month-we are just so happy to have everyone back besides the One Man on the island (this is a joke haha-One Man Lake Lodge sits on an island).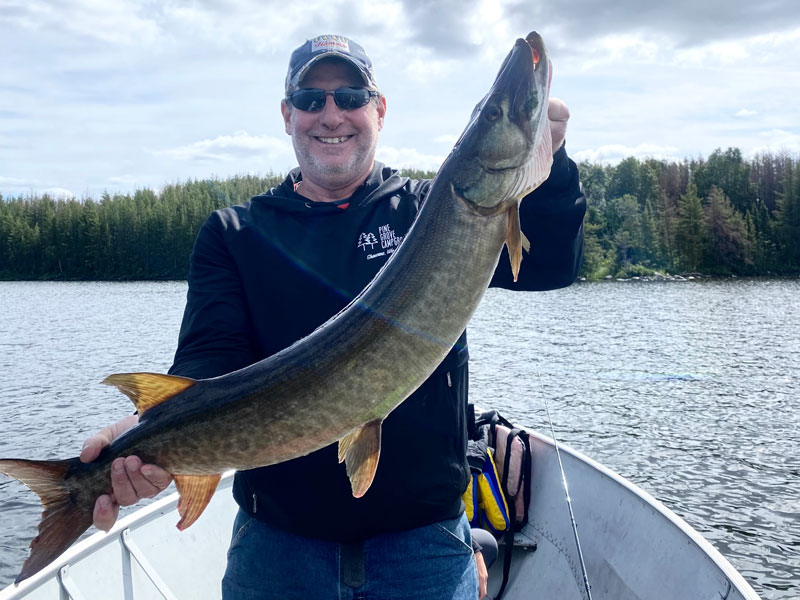 Kettle Falls Lodge
Kettle Falls had the pleasure of hosting the Walleye Derby gang organized by Denny Baker from Iowa. Denny has made 41 trips to Kettle Falls. Denny started coming when the barges were being used for customers at Kettle Falls before the lodge was even built-he has seen many changes through the Halley's Camps decades. This year it was a mixed group of friends and family that caught a lot of walleyes while staying at Kettle Falls-ok they caught some bass and pike too! The weather this August was beautiful and the sunrise and sunsets were unforgettable.
Not only was this month full of fishing, but we were able to cross some items off the list. We replaced all the walkways at Kettle Falls with new composite decking. It looks great and will continue to do so for years to come!!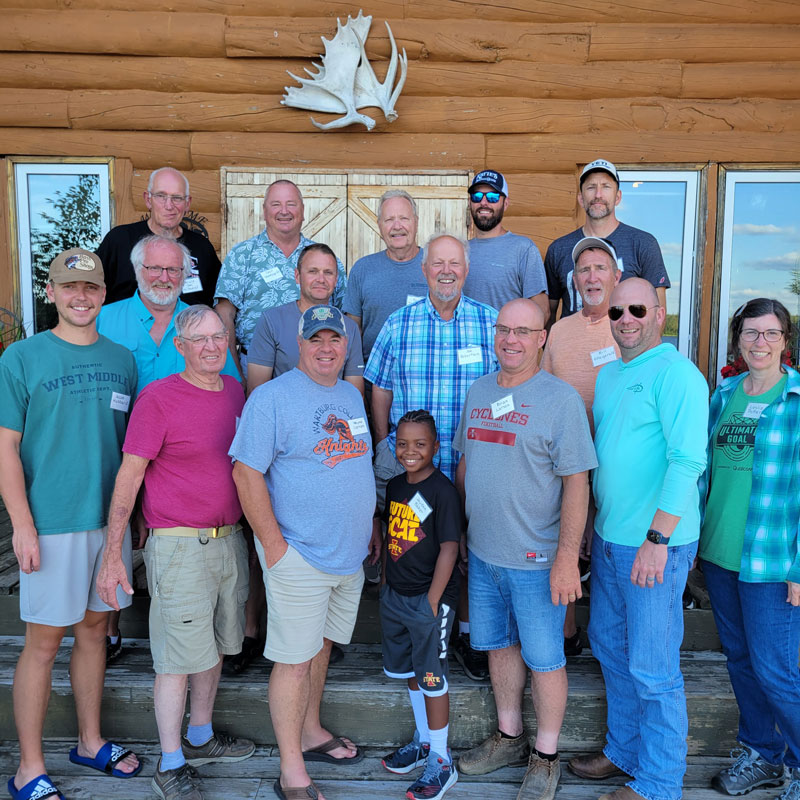 Halley's Camps Fly in remote outposts cabins
Our fishing enthusiasts at our outposts proved there is lots of fish in the lakes!! We had groups from all over the US this month!! One of our groups, were from Illinois and they caught trophy pike and smallies! Way to go John and Aaron!!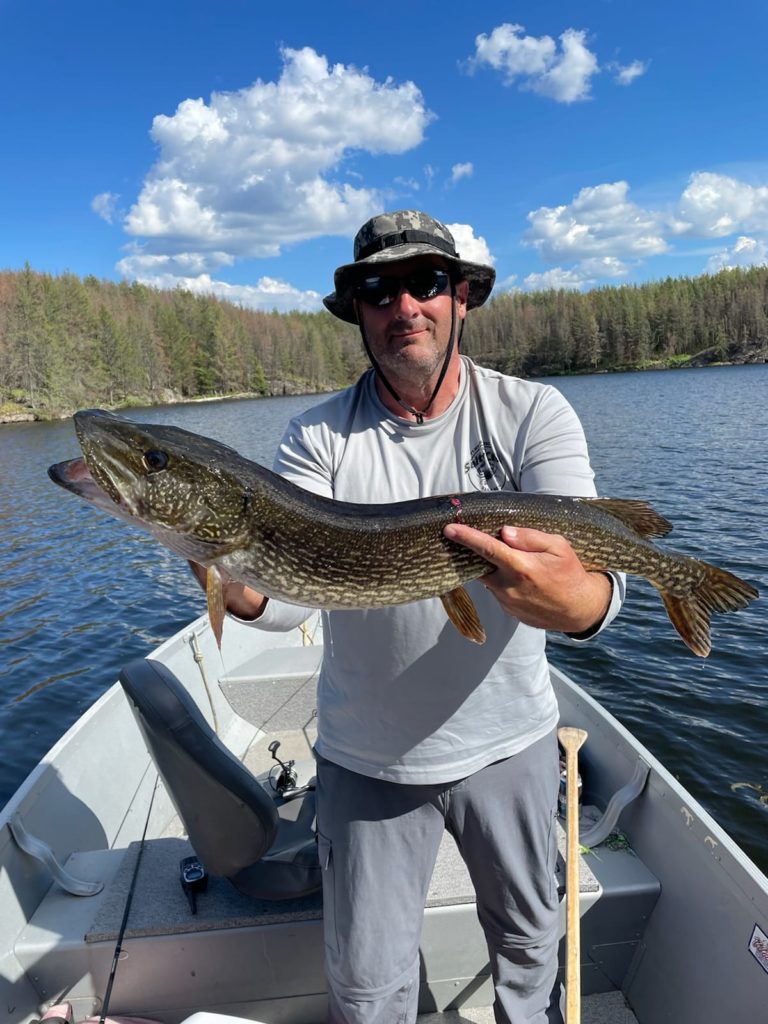 ADVENTURE AWAITS...
Start Your Perfect Getaway
Ready to experience some of the best walleye, northern and smallmouth fishing in Canada? Whether you desire all the comfort and luxury of a lodge or the escape and adventure of an outpost experience, Halley's Camps offers something unique for everyone.
Another great trip to Kettle Falls Lodge! Thank you for helping us celebrate my dad's 65th birthday, and your assistance in coordinating all the logistics and schedules for our group. It has been a privilege to get to know your family and staff throughout the years and share in the enjoyment of the outdoors.