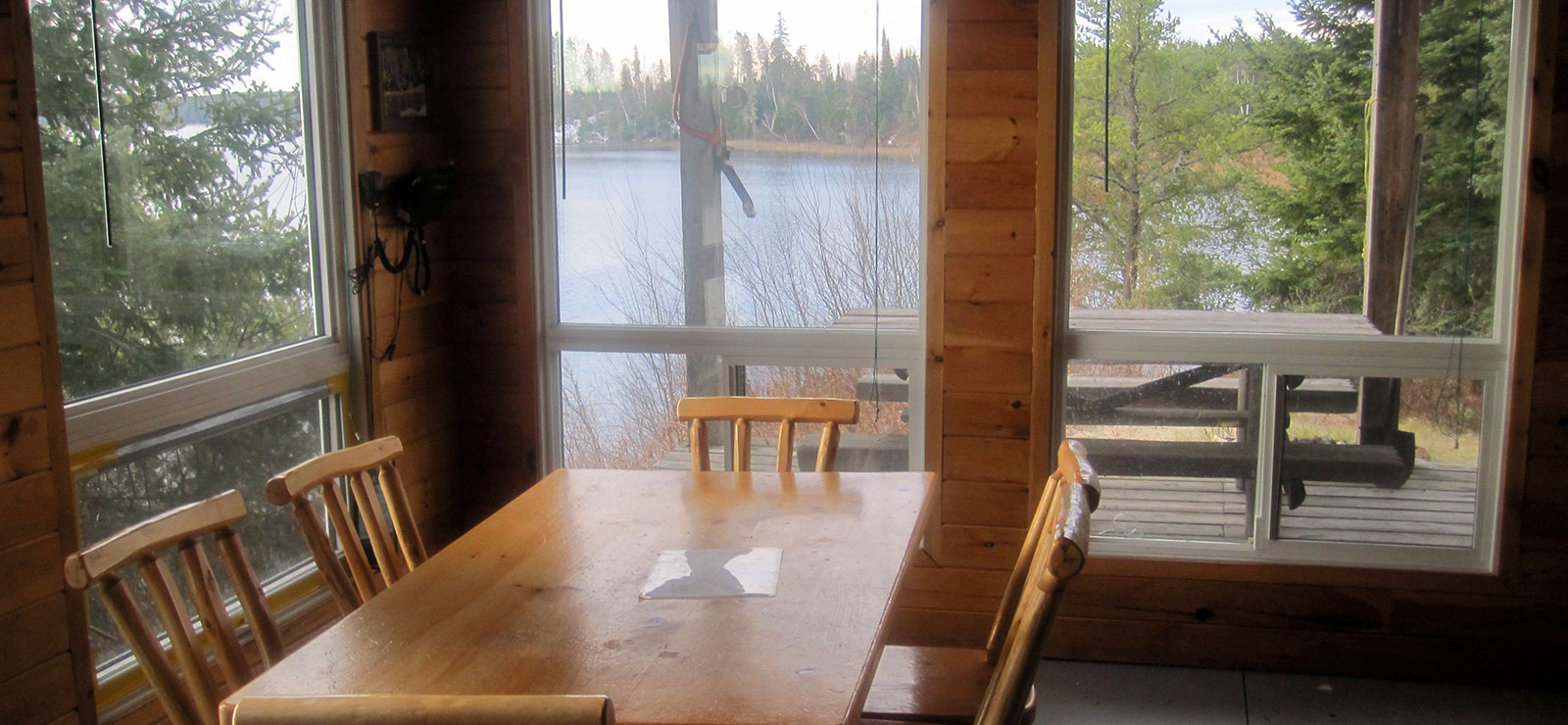 Thanks for your planning, coordinating, and participation in the Canadian Fishing Trip; we had a great time and look forward to attending this event again in the future! Great place to spend quality time with good folks.
CANADA'S BEST FISHING CABIN EXPERIENCE
Right Lake Outpost
Catching dinner off the dock at Right Lake will take you just minutes! You can hike into Babe Lake for more walleye, smallmouth bass and northern fishing. For another day's adventure you can portage into Arrow Lake, where many fishermen enjoy the fun walleye and northern fishing. Bring your camera as you are guaranteed to catch trophies while staying at this "right" lake, a truly Canadian fishing cabin experience!
Facilities
Right Lake is truly the "right" place to unwind amid the wilderness. Large windows on two walls capture the picturesque scenery almost as if you are standing on the outside deck. Guests here will enjoy the shower and flushing toilet in the adjacent building as well as the solar system powering the lights and electric fridge.
Party Size
This knotty pine outpost cabin in the rustic style is suited for parties of 4 but can sleep up to 6 fishermen.
Fishing
Large lakes with winding rivers attaching them makes Right Lake a healthy fishery of walleye, smallmouth bass, and northern pike.
2020 Availability
June 27 – July 04, 2020
July 04 – 11, 2020
July 11 – 18, 2020

We strive to keep our online availabilities up-to-date, however it is always best to call us for current availabilities.
We look forward to hearing from you!
Call 1-800-465-3325 today!
WE SUPPLY:
Float plane travel to and from the outpost
Accommodations in our log cabins
Check flights every 2 days, weather permitting
Solar power with backup generator
Hot & cold running water
Indoor showers
Woodstove for heat
Box spring & mattress beds
Pillows and mattress pads
Fridge & stove
Stove top toaster
Kitchen utensils, dishes, pots, & pans
Cups, glasses, & plates
Coffee pot
First-Aid kit
Fire extinguisher
Axe
All ice, block and cubes
Propane BBQ
Propane fish cooker
Deck chairs
Clothes lines and pins
Lake maps
Boats, motors & gas
Flotation devices
Landing nets & paddles
Minnow and leech buckets
Toilet paper
Satellite phone (minutes extra)
Memories of a lifetime
YOU SHOULD BRING:
Passport and identification. If driving, children under 16 require only a birth certificate and permission letter from both parents allowing you to cross the US/Canada border with the child.
Sleeping bags & pillow slips
Medication (plus a few extra days' worth)
Rain gear & warm clothing
Rubber boots, extra footwear, and socks
Personal towels and toiletries
Dishtowels and cloths
Extension cords for CPAP machines
Camera and flashlight
Extra batteries for your electronics
Hats, sunglasses & sunscreen
Bug repellent and mosquito coils
Playing cards, reading material
Waterproof matches and lighter
Fishing rods—at least 2 per person
Tackle, fishing line, and clippers
Filet knife and sharpening stone
Stringer and multi-tool
Needle nose pliers or hook-out (no jaw spreader)
Portable depth finder
Small backpack for portages, and cooler for boats